Hilary Stock
'What is this life if full of care, we have no time to stand and stare?'
Hilary Stock is a fine art photographer who makes unique artwork out of her images. She has had a variety of solo shows and her pictures have been bought by private collectors around the world. A wide range of her Cornish work is for sale in the artwork galleries on this website, and at The Harbour Gallery in Portscatho.
In recent years, Hilary's work has also been exhibited at Fisherton Mill in Salisbury; in a solo show at The White Horse Gallery in Marlborough; and at The Gallery Little Bedwyn. Her photos have appeared in Conde Nast Traveller and the Telegraph. Hilary welcomes art commissions and also offers private lessons in photography.
Hilary began her working life making documentary features for BBC Radio 4, drawing on her background in anthropology. She has travelled widely and lived twice in India – first in Kochi, Kerala and later in New Delhi – and now divides her time between Cornwall, where her mother and grandmother grew up, and Wiltshire, where she lives. Each place inspires her work in different ways, whether it's the ancient trees of Savernake Forest or the Roseland Peninsula's iconic coastline.
In addition to making artworks, Hilary has been a lifestyle photographer for Womad, the world music festival. She also undertakes portraits and independent photography projects. She is currently a photographer-in-residence at  Horatio's Garden, where she works with patients adjusting to life with spinal injuries.
Other recent work commitments have taken her to the Gambia, where she worked for the charity Thriving Through Venture. She led a teenage photographic project that compared the community of Gunjur with its twinned town of Marlborough in Wiltshire. The resulting work, 'Humans of Marlborough and Gunjur', was exhibited at the White Horse Gallery in Marlborough  and went on a tour of local schools.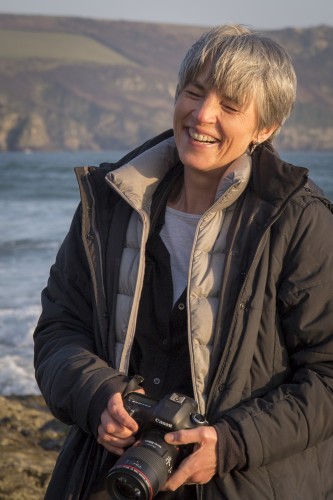 What the press say:
"Wherever she goes, Hilary brings a blend of energy and contemplation to her work. She creates photographs that are deft, subtle, meditative and moving – things of beauty that transcend their medium. They bring to life her guiding belief "If you care to look, you can see beauty in anything." – Another Place magazine
"Hilary Stock's collection is glorious. The mix of realism and storytelling is magical. There is always more to see on each viewing" – Tower and Town
"On the one hand, Hilary is an energetic, can-do woman …. On the other, she has a fine, enquiring but above all contemplative mind, one which took to heart her mother's favourite saying: 'What is this life if full of care, we have no time to stand and stare?'" – Cornwall Today
Recent videos

THE ART VLOG – THREE PRO TIPS FEATURING HILARY:
PERSERVERANCE, BEING SPECIAL AND THE 24-HOUR RULE