Current shows
* The Nare Hotel, Cornwall, Summer 2021

A lucky few guests at The Nare in Cornwall this summer have been staying in the new
Whittington Suites
, the latest addition to the luxury five-star hotel. And on arrival, they have been greeted by a stunning new triptych by Hilary. Nare Head was commissioned by the hotel's proprietors, Toby and Katie Ashworth. Three aluminium panels capture the Roseland's dramatic headland, one of the peninsula's most iconic landmarks.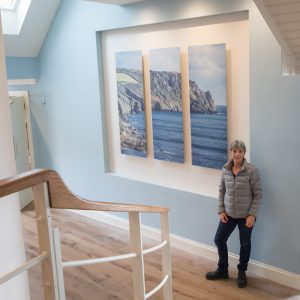 * Offshore Arts Gallery, Widemouth Bay, Summer 2021
Hilary is one of a number of artists exhibiting throughout this summer at the new Offshore Arts Gallery at The Bay View Inn in Widemouth Bay, Cornwall.
Past shows:
* The Shelter, Harbour Gallery, Portscatho, 23-25 July 2021
Hilary returned to the Fisherman's Shelter on the quayside in Portscatho, Cornwall this summer for her must successful exhibition to date. Her solo show, organised by The Harbour Gallery,  featured a range of new work, including Hilary's stunning new seaweed pictures, which proved very popular.

* Bedwyn Open Studios, September 2020
Hilary took part in #BedwynOpenWindows2020  throughout September, showing a range of her work in the windows of her home in Great Bedwyn, Wiltshire. 
* July/August 2020

Hilary was back at The Shelter on the quayside in Portscatho, Cornwall, for a very successful exhibition, hosted
by the award-winning 
Harbour Gallery
. 

* White Horse Gallery, Marlborough, November 2018
In November 2018, Hilary held a solo show, 'From Wiltshire Woods to the Cornish Coast', at the White Horse Gallery in Marlborough.
* Other shows
Hilary has exhibited regularly at The Stratford Art Show at Stratford upon Avon, and at Fisherton Mill in Salisbury, the largest independent art gallery in the South West. She has also participated in Marlborough Open Studios.